Talk about an uninvited guest at the Olympics Ceremony in London 2012.
Friday night's spectacular pyrotechnics display of the most watched opening ceremony in summer Olympics history attracted more than the eyes of over 40 million people. A clearly seen unidentified flying object was videotaped making its way over London's Olympic stadium, reports
Examiner.com
.


So what was it?
On an evening that included an apparent Queen Elizabeth and 007 agent James Bond parachuting out of a helicopter into the Olympics stadium, most people probably wouldn't have been surprised if a staged UFO was also on the entertainment menu, just two weeks after the U.K. released its most recent batch of
UFO documents
.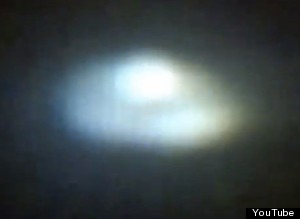 Last month, former Ministry of Defense UFO desk officer
Nick Pope
suggested that a huge event like the London Olympic Games, could present itself as a prime target for otherworldly craft to show themselves to a gigantic viewing audience.
"With the summer of mass events, we are all on high alert for terrorism. But we must also cast our eyes further afield and be prepared for even the most seemingly unfathomable," Pope said, according to
PressTV
.
As fireworks lit up the heavens above the Olympics opening ceremony, watched by around a billion people, something else was seen among the whizz-bangs in the night sky... a UFO.
It may have ticked all the cliche boxes - saucer-shaped, bulge in the middle, metallic - but no one has yet stepped forward to explain the slow-moving object.
The incident came right at the close of last Friday's spectacular at the Olympic Park stadium in Stratford, east London at around 12.30am.
And it was just as Nick Pope, one of the UK's top UFO experts, predicted only weeks ago - that mass summer events would be a prime time for crafts from other worlds to present themselves to mankind.
Watch as the UFO approaches London's Olympic stadium.
The disc-shaped object is first seen entering the upper left portion of the video as the fireworks erupt over the stadium. The UFO -- which appears to have a dome or bulge rising from its center -- moves slowly across the sky as if deliberately observing the light-show spectacle below it.
While NBC Olympics -- a division of NBC Sports --
has chosen Goodyear blimps
for all of its 2012 Olympics aerial coverage, the strange-looking object that appeared over the opening ceremonies doesn't appear to be a blimp.
Pope wrote earlier this year of a conspiracy theory rumor that suggested a fake alien attack would be staged at the London Olympics.
"A combination of special effects and holographic technology will be used to create the illusion of an alien invasion, the rumor claims," Pope wrote on
TruTV.com
.
"If aliens have studied our psychology, they may choose to appear in our skies on a significant date -- the closing ceremony of the Olympic Games is one date being widely circulated by conspiracy groups," PressTV quoted Pope.
Maybe Friday night's UFO appearance was a dress rehearsal.